Descripción
Icreatia.es es la primera tienda especializada en tecnología para el CAD y diseño en España.
Desde nuestra web podrá acceder a las últimas novedades en software, hardware, libros, cursos y servicios, encontrando información detallada, versiones demo, videos, tutoriales, comparativas, artículos, etc.
Le ofrecemos los mejores productos seleccionados por su calidad y buen precio, cubriendo las necesidades del diseño en sus diferentes aspectos:
Arquitectura: programas y aplicaciones de diseño arquitectónico en 2D y 3D, programas de renderizado, arquitectura del paisaje, librerías de bloques y asistentes de trabajo.
Diseño Industrial: modeladores, renders, plug-ins para el diseño de todo tipo de productos.
Diseño Gráfico: editores de imagen, retoque fotográfico, maquetación, fotocomposición y diseño web.
Material de Formación: tutoriales, manuales avanzados, libros con temática especializada.
Hardware: Tabletas gráficas Wacom, Mouse 3D, guías de color Pantone y RAL, calibradores de color, monitores de alta resolución, escáner, impresoras y plotters profesionales, etc.
Icreatia.es es la opción más rápida, cómoda, segura y económica para informarse y comprar el producto o servicio que más se ajusta a sus necesidades.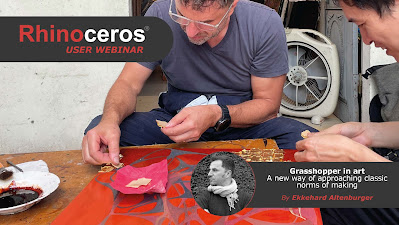 Rhino User WebinarGrasshopper in art: A new way of approaching classic norms of making11 Oct 2023 at 16:00 (CEST)In this Webinar, Ekkehard Altenburger will show his wide-ranging approach to using Grasshopper as an artist.His work explores both the high- and low-end...