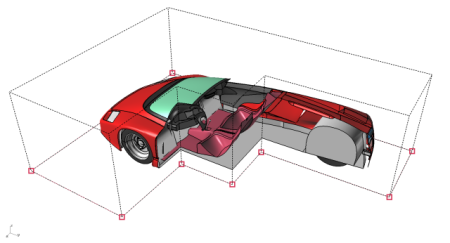 ddInterfere
This command allows you to check for interferences within a model that contains closed polysurfaces or closed meshes by comparing all the objects each against one another.
This command use all your CPU cores so if your CPU have time you will be able to orbit your view while interferences are computed even run a new command or hide a layer.
Every time a command ends, interferences will be computed again.
This command runs only in shaded display modes.

ddClippingObject
This is a slower but more flexible version of ClippingPlane command. Allows use any closed polysurface or mesh as clipping object.
If clipping objects are created while history is enabled in the editor, these can be modified later and section will be updated automatically.
This command runs only in shaded display modes.

ddMirrorPlane
This command defines a plane and enables a display conduit that redraws symmetrically all the geometry along that plane.
Could be used to model symmetrical objects like a yacht hull.
Dynamic Display 1.0 SR6
Here you can download the installer for the latest version of Dynamic Display. Please check the requirements for your platform.
Rhino 4.0 / 5.0 (32-bit)
Rhinoceros 4.0 SR7 / 5.0 32-bit
Windows XP / Vista / Vista x64 / 7 / 7 x64 / 8 / 8 x64 / 8.1 / 8.1 x64 / 10 / 10 x64
Rhino 5.0 (64-bit)
Rhinoceros 5.0 64-bit
Windows Vista x64 / 7 x64 / 8 x64 / 8.1 x64 / 10 x64
What's New?
SR6 (March 06 2013)
Added command ddExportClippedMeshes.
Fixed a bug that makes ddInterfere and ddMirror commands didn't work when there were no clipping objects in the document.
SR5 (January 18 2013)
Improved Rhino display performance when no clipping object is enabled.
Fixed the 32 bits installer, it used to fail when Rhino 4.0 was not installed.
SR4 (March 18 2012)
Fixed a bug in ddClippingObject command that makes geometry disappear when is far from origin.
Solved an installer problem that makes it leave some registry keys on the computer even when uninstalled.
SR3 (February 20 2012)
Improved the way Dynamic Display handle disjoint meshes for better results.
Added support for Technical display mode in Rhino 5.0.
Fixed a bug into the update system that makes it fail on Rhino 5.0 64 bits.
SR2 (October 19 2011)
Fixed a bug in Rhino 5.0 64bits that makes culled objects are picked.
SR1 (March 31 2011)
Compatibility with Rhino 5.0.20110331 build.
Fixed a bug that hungs ddInterfere command.
Setup files are now electronically signed.
Release (July 07 2010)
Rhino 5.0 shadows support.
Beta 2 (July 01 2010)
Installer Now check if the right Rhino version is installed.
Fixed a bug into the auto updater mechanism.
Beta 1 (May 21 2010)
Fixed a bug in ddClippingObject when an object is completly inside another.
Improved ddClippingObject to be more Multi-Core.
WIP12 (May 03 2010)
Improved ddInterfere command with interferences listing.
New web site
Frequently Asked Questions
Can I share Dynamic Display installer?
Yes, you can, and we'll be very grateful. We want as much people as possible to use Dynamic Display.
Does Dynamic Display modify the document?
No, is doesn't. Dynamic Display is an analysis plug-in, and it will not modify any document you may open.
Would it be possible for the ClippingObject to clip the Curves as well?
No. Currently Dynamic Display only works with meshable objects like surfaces, polysurfaces and meshes.
Would it be possible to render Dynamic Display results?
Currently Dynamic Display it's only a display trick. If you want to obtain clipped meshes use ddExtractMesh command.
Known Bugs and limitations
Mirror plane has no representation so sometimes is difficult to figure out where it is.
Currently objects into blocks are not clipped.
For technical support and assistance, or to send us suggestions, bug reports, feature-request or any other feedback, you can contact us by sending an email to ddisplay@asuni.com