Description
With more than 1000 apps available and 205.000 downloads per month (with more than 5 million downloads total), food4Rhino is the first Rhino plug-ins and Grasshopper add-ons site on the web.
For Rhino/Grasshopper users:
As a user, find the newest Rhino Plug-ins, Grasshopper Add-ons, Materials, Textures and Environments, add your comments, discuss about new tools, get in contact with the developers of these applications, share your scripts…
If you are ready to start downloading Rhino plug-ins, Grasshopper add-ons and textures from food4Rhino, just register and start right away.
For developers:
As a developer, take advantage of the site's infrastructure and exposure, build your user community, get valuable feedback, easily manage your updates and new builds.
Users sharing their applications with other users is the whole idea behind food4Rhino. You don't need to be a professional developer to start using our service. See http://www.food4rhino.com/faq for complete details.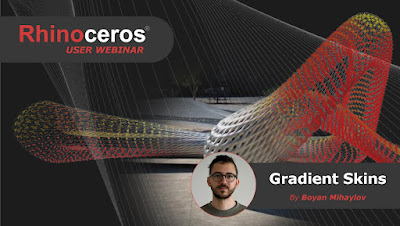 Rhino User WebinarGradient SkinsApril 5, 2023, at 4:00 PM CESTThis webinar will introduce some typical approaches for algorithmic modelling used in the design of Joris Laarman Studio's products, illustrating how they relate to their design philosophy and visual...