ADVANCED SOLUTION FOR LANDSCAPE DESIGN
BIM TECHNOLOGY FOR 2D TECHNICAL DRAWINGS, 3D MODELING AND PHOTOREALISTIC RENDERING.
Why use Lands Design?
Powerful Terrain Modeling Tools
Create terrains from contours, elevation curves and point clouds. Terrains can be also scanned and imported from the cloud by picking a location from a satellite map. Lands includes tools to modify terrains, add cuts and fills, paths, holes or calculate the volume of land movements. All this data is stored in the terrain and can be modified at any time.
BIM/LIM (Landscape Information Modeling) in your Project
Lands provides smart objects, such as vegetation elements, civil work objects and terrains that can be easily edited and documented in quantity take-offs. Lands provides tools to produce 2D technical drawings that are always linked to the 3D model and to the related lists and documentations.
Extensive Plant Database in 3D / 2D
Lands provides a plant database with more than 1800 species. You can select the ideal plant for your site by filtering the list according to specific criteria: climate, type of soil, wind resistance, flowering and fructification, etc.
Each plant species has its own customizable display modes in 2D and 3D and they are ready for rendering, exporting plans, and season and growth simulation.
Generate Dynamic 2D Documentation
Turn your 2D sketch into a 3D project ready for visualization. Generate 2D technical plans from the 3D model and add dimensions, labels, tags, plant photos and other annotations to get the project ready for documentation. Produce different layouts such as setting out plan, irrigation, and dimension plan by using the layer manager to organize your project. Use the listing tools to generate quantity take-offs for plants, urban furniture elements, zones or volume of cuts and fills from terrain operations.
Parametric Design
Automate design workflows with vegetation, terrains and civil work elements. Save time by avoiding repetitive tasks, create custom functionalities and test different design options faster.
All this is achieved with Grasshopper, a visual programming environment available in the Lands Design version for Rhino.
Bring your Project to Life with Animated Videos and Realistic Images
Present your project with realistic images, virtual tours and animated videos. Walk through the project, play vegetation season change simulation, enable sunlight motion, wind effect and plant growth. In addition, you may apply your desired render engine like Enscape, Lumion, V-Ray, etc.
Latest news on Lands Design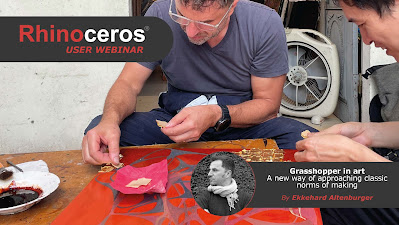 Rhino User WebinarGrasshopper in art: A new way of approaching classic norms of making11 Oct 2023 at 16:00 (CEST)In this Webinar, Ekkehard Altenburger will show his wide-ranging approach to using Grasshopper as an artist.His work explores both the high- and low-end...