Descripción
food4Rhino es un nuevo servicio comunitario de plug-ins ofrecido por McNeel.
Como usuario, podrá ver los nuevos plug-ins de Rhino, complementos para Grasshopper, y texturas y fondos, agregar sus comentarios, opinar sobre nuevas herramientas, contactar con los desarrolladores de estas aplicaciones, compartir sus scripts…
Como desarrollador, podrá beneficiarse de la infraestructura y la exposición del sitio, crear su comunidad de usuarios, obtener valiosos comentarios y opiniones y gestionar con facilidad sus actualizaciones y nuevas versiones.
Últimas noticias sobre Rhino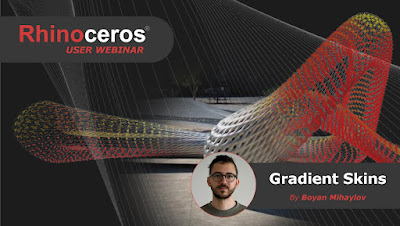 Rhino User WebinarGradient SkinsApril 5, 2023, at 4:00 PM CESTThis webinar will introduce some typical approaches for algorithmic modelling used in the design of Joris Laarman Studio's products, illustrating how they relate to their design philosophy and visual...