Descripción
food4Rhino es un nuevo servicio comunitario de plug-ins ofrecido por McNeel.
Como usuario, podrá ver los nuevos plug-ins de Rhino, complementos para Grasshopper, y texturas y fondos, agregar sus comentarios, opinar sobre nuevas herramientas, contactar con los desarrolladores de estas aplicaciones, compartir sus scripts…
Como desarrollador, podrá beneficiarse de la infraestructura y la exposición del sitio, crear su comunidad de usuarios, obtener valiosos comentarios y opiniones y gestionar con facilidad sus actualizaciones y nuevas versiones.
Últimas noticias sobre Rhino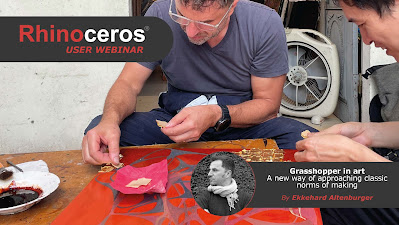 Rhino User WebinarGrasshopper in art: A new way of approaching classic norms of making11 Oct 2023 at 16:00 (CEST)In this Webinar, Ekkehard Altenburger will show his wide-ranging approach to using Grasshopper as an artist.His work explores both the high- and low-end...