Descripción
Rhinoceros – Herramientas de modelado para diseñadores y arquitectos
Desde la primera versión en 1998, Rhinoceros®, o Rhino®, se ha convertido en una herramienta de modelado 3D estándar para diseñadores y arquitectos.
Empiece con un boceto, un dibujo, un modelo físico o sólo una idea. Rhino proporciona las herramientas para modelar y documentar sus proyectos de diseño con precisión y dejarlos listos para el renderizado, la animación, el dibujo, la ingeniería, el análisis y la fabricación o construcción.
Rhino puede crear, editar, analizar, documentar, renderizar, animar y traducir curvas NURBS, superficies y sólidos sin límite de complejidad, grado o tamaño. Rhino también es compatible con mallas poligonales y nubes de puntos. Su precisión y flexibilidad permite a los estudiantes explorar y materializar sus ideas sin tener que perder mucho tiempo aprendiendo "CAD".
Además, cualquier geometría creada en Rhino puede exportarse a cortadoras láser, fresadoras o impresoras 3D. Esta opción es la que diferencia a Rhino de las herramientas de modelado 3D generales basadas en polígonos, con las que se pueden crear imágenes, pero sin precisión de fabricación.
La arquitectura abierta de Rhino también permite a los usuarios utilizar Rhino como plataforma de desarrollo: un SDK C++ y una serie de métodos de scripting (RhinoScript) permiten a los programadores de cualquier nivel de experiencia personalizar y automatizar Rhino, además de ampliar sus posibilidades. Hoy en día, existen cientos de plug-ins comerciales para Rhino con funciones de anidado, creación de terrenos, arquitectura paramétrica, renderizado, animación, CAM, modelado de subdivisión, joyería, diseño de moldes, etc.
Con más de 300.000 usuarios comerciales y más de 10.000 escuelas, Rhino permite desarrollar sus diseños con rapidez y para comunicar con total fidelidad sus ideas, emociones y datos a todas las personas involucradas en la investigación, el desarrollo, el marketing y la fabricación del producto, además del proceso de construcción.
Puede descargar una versión de Evaluación desde www.es.rhino3d.com/eval.htm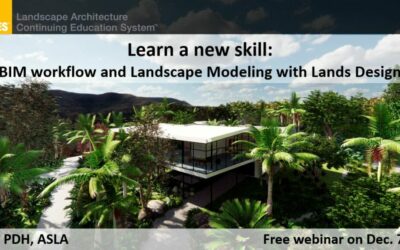 The upcoming webinar of Lands Design, is on Dec.7th at 16:30 CET/ 09:30 Central USA. It is an approved LACES course evaluated with 1.5 PDH learning hours.
The aim of this webinar is an overview of the potential of Rhino and