Description
Rhinoceros is a Modeling Tools for Designers and Architects
Since its first release in 1998, Rhinoceros®, or Rhino®, has become one of the standard 3D modeling tools for designers and architects.
Start with a sketch, drawing, physical model, scan data, or only an idea—Rhino provides the tools to accurately model and document your designs ready for rendering, animation, drafting, engineering, analysis, and manufacturing or construction.
Rhino can create, edit, analyze, document, render, animate, and translate NURBS curves, surfaces, and solids with no limits on complexity, degree, or size. Rhino also supports polygon meshes and point clouds. Its accuracy and flexibility makes it possible to students to explore and build their ideas without having to spend much time learning "CAD".
Also, any geometry created in Rhino can be manufactured using laser cutters, milling machines or 3D printers, and this is really what makes Rhino different from general 3D modelling tools based in polygons, where you can create great images, but without manufacturing precision.
Rhino's open architecture allows using also Rhino as a development platform: a C++ SDK and a series of scripting methods (RhinoScript) allow programmers of any level of expertise customize and automate Rhino and extend its capabilities. Today, there are dozens of commercial plug-ins for Rhino for nesting, terrain creation, parametric architecture, rendering, animation, CAM, subdivision modelling, jewelry, mold design, etc.
With more than 300,000 commercial users and more than 10,000 schools, Rhinoceros allows to quickly develop your designs and accurately communicate them to everyone in the product research, development, marketing, and manufacturing or construction process.
A free Evaluation version can be downloaded at www.rhino3d.com/eval.htm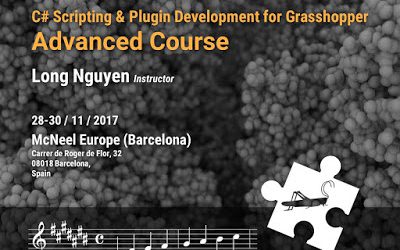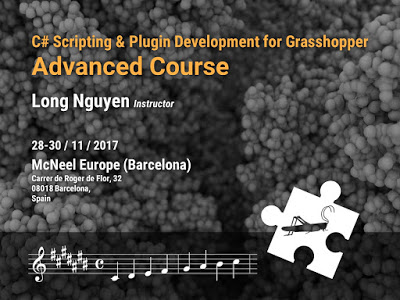 Advanced Course 
C# Scripting and Plugin Development for Grasshopper by Long Nguyen (ICD Stuttgart)
Nov 28-30, 2017
10.00h – 18.00h
McNeel Europe S.L.
Roger de Flor, 32-34 bajos
08018 Barcelona (Spain)

McNeel is pleased to welcome Long Nguyen, research associate at ICD Stuttgart, for a 3-day Advanced Workshop for Developers at McNeel Europe in Barcelona. 
Building on the introductory course, the 3-day advanced course will focus on advanced aspects of C# scripting and plugin programming for Grasshopper. In addition to going in-depth with Rhino geometries, custom graphics display and Rhino-Grasshopper interaction, we will learn different techniques to vastly improve code performance and significantly speed up execution time (including using multithread parallel computing). The participants will also have the opportunity to kick start the development of their own personal projects under the instructor's guidance.
Day 1:
• ScriptSync: Using Visual Studio as a replacement C# Code Editor in Grasshopper.
• Custom graphics display (custom colors, materials, styles, etc…)
• Rhino geometries (Curves, Surfaces, Meshes).
• String editing: useful for generating robot/machine control codes.
Day 2:
• Programmatically interacting with Rhino modelling environment from Grasshopper (including geometry baking)
• C# Delegates
• Computational complexity: understanding code performance and scalability
• Spatial Data Structure: using RhinoCommon R-Trees to accelerate 3D searches, proximity checking, collision detection…
• Parallel computation with the .NET Task Parallel Library
Day 3:
• Personal project development
• (Optionally discuss topics requested by the participants)

Course Fee:
EUR 795 (+VAT); full time students and university teachers will get a 50% discount (
proof of status
required).  Bookings will be formalised once payment is cleared. 
Max. Number of Participants: 10. If there is no quorum, course will be cancelled 15 days before.
Language: English